News — religion
Posted by Kim Soep on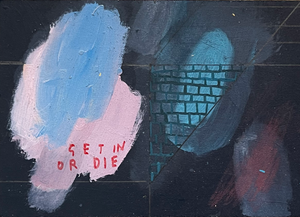 We have a whole new collection of paintings by Sarah J. Stanley, a Glasgow-based artist whose work explores themes of religious dogma and subservience. Blocks, bricks, grids, ladders, and stairs are commonplace in Stanley's painterly lexicon. They form boundaries, pathways and even cages, evoking ideas of confinement and coercion- a feeling known only too well by Stanley. She grew up in a family of Christian fundamentalists. Extreme and cult-like, with no time for anything but Church and bible studies, her childhood was void of play and deviance.
Posted by Kim Soep on

Ultramarine, cyan, navy and azure, all names for a colour that we love and adore: blue. In our latest short essay, we look at the history of blue, its significance in different religions and cultures, and just how diverse the beryl hue really is!
Tags:

Blue, colour, culture, cuprorivaite, Egyptian Blue, lapis lazuli, matisse, picasso, religion, royal blue, sea, sky, turquoise, ultramarine