Posted by Kim Soep on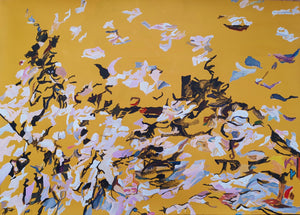 We are delighted to present new work by multi-award-winning artist Patricia Paolozzi Cain. Based in rural Dumfries and Galloway, Patricia Paolozzi Cain's often large-scale works of art form an active and shaping force that exists between the artist and her physical environment. Tangled tree branches, dense hedgerows, a fusion of fallen leaves, sedges and thickets are the preamble to Paolozzi Cain's abstracted compositions. Getting lost in nature's cosmos is for Paolozzi Cain a means to look inward, to introspect. In her own words, she says, "I focus on nature as a gateway to the internal mind." Using a process of intense scrutiny, where she transposes and edits what she sees before her, Paolozzi Cain turns observations into a rich, meditative language that is as much rooted in place as it is in consciousness.
Posted by Kim Soep on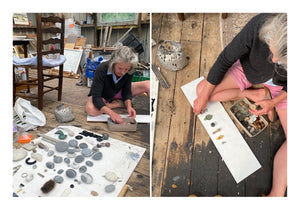 If you follow Broth, it won't surprise you that one of my favourite things to do is visit artists at their studio. Call me a nosy parker but stepping into an artists workspace is for me like entering Ali Baba's cave- you never know what riches you're going to find. Fiona MacRae's studio in rural Argyll is one such place that never disappoints. Tucked away up a meandering track in mossy woodland, Fiona's studio is a treasure trove of spectacles.Having beachcombed her entire life, Fiona MacRae's studio is a shrine to both natural and man-made forms scavanged from the shoreline. There are whalebones, coloured sea glass, mermaid purses, driftwood and calcified sea creatures, but also a confetti of plastic odds and ends, corroded rubber and knarled bits of oxidised metal. Wherever you look, there's something to marvel at.
Over the years, it has become abundantly clear that beachcombing is an important part of MacRae's practice. It works its way- albeit surreptitiously- into her paintings by means of colour, texture and form, and is used directly in her assemblage artwork. For this reason, I was curious to learn more about her love of beachcombing, how it informs her art-making and where it all started.
Read on to discover more about Fiona MacRae and her delightful art.
Posted by Kim Soep on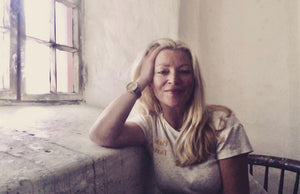 Jorunn Mulen is a painter living and working in Bergen, Norway. With a MA in Illustration & Authorial Practice from Falmouth College of Art, UK, Jorunn's visual narratives are concerned with persona and the complex stories, secrets and histories that manifest on the surface. Showing her work in London, LA, Tokyo and across Italy, Jorunn has received worldwide recognition for her alluring portraiture. To learn more about her artistic practice and the inspiration behind her work, I asked her the following questions.......