Posted by Kim Soep on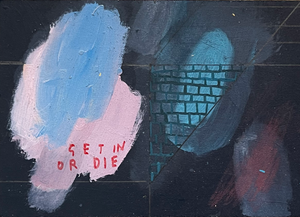 We have a whole new collection of paintings by Sarah J. Stanley, a Glasgow-based artist whose work explores themes of religious dogma and subservience. Blocks, bricks, grids, ladders, and stairs are commonplace in Stanley's painterly lexicon. They form boundaries, pathways and even cages, evoking ideas of confinement and coercion- a feeling known only too well by Stanley. She grew up in a family of Christian fundamentalists. Extreme and cult-like, with no time for anything but Church and bible studies, her childhood was void of play and deviance.
Posted by Kim Soep on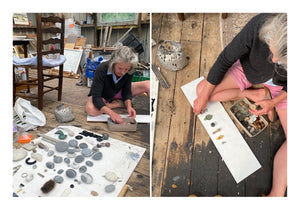 If you follow Broth, it won't surprise you that one of my favourite things to do is visit artists at their studio. Call me a nosy parker but stepping into an artists workspace is for me like entering Ali Baba's cave- you never know what riches you're going to find. Fiona MacRae's studio in rural Argyll is one such place that never disappoints. Tucked away up a meandering track in mossy woodland, Fiona's studio is a treasure trove of spectacles.Having beachcombed her entire life, Fiona MacRae's studio is a shrine to both natural and man-made forms scavanged from the shoreline. There are whalebones, coloured sea glass, mermaid purses, driftwood and calcified sea creatures, but also a confetti of plastic odds and ends, corroded rubber and knarled bits of oxidised metal. Wherever you look, there's something to marvel at.
Over the years, it has become abundantly clear that beachcombing is an important part of MacRae's practice. It works its way- albeit surreptitiously- into her paintings by means of colour, texture and form, and is used directly in her assemblage artwork. For this reason, I was curious to learn more about her love of beachcombing, how it informs her art-making and where it all started.
Read on to discover more about Fiona MacRae and her delightful art.
Posted by Kim Soep on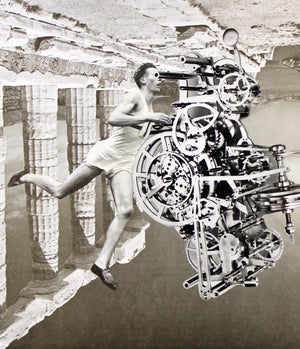 Pum's surreal collage fuses together imagery from historical books and probes the uneasy relationship between humans and their technology. A dichotomy of old and new, the black and white aesthetic of yesteryear are like prescient visions that raise issues, feelings and concerns of the modern day. In her ongoing series of works, examining our addiction to faster, more convenient living and its impact on society and the planet, Pum's timeless artworks share a limitless awareness, confronting the profound changes and pressures that accompany technological advancement.
Tags:

assemblage, blog, colla, collage, glasgow, photo-montage, photomontage, pum, socio-political art, surreal art, women artists
Posted by Kim Soep on
This June, we caught up with Laura McMorrow a multi-disciplinary artist living and working in Leitrim, Ireland. Working across painting, collage, film and sculpture, Laura makes work that draws on nature. She has a Masters in Fine Art from the University of Ulster in Belfast, and in 2017 was awarded the Burren College of Art 'Emerging Irish Residency Award.'
Tags:

Abstract, abstraction, Artist Interview, artist studio, blog, collage, Ireland, Irish, laura mcmorrow, oil painting, Painting, video
Posted by Kim Soep on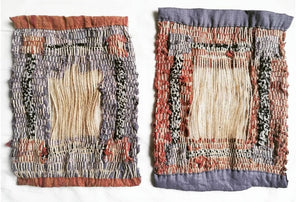 Our first artist interview of 2021 is with Emily Unsworth White, a painter, collagist and textile artist living and working in Bristol. Her multi-disciplinary practice explores nature as a holy sanctum, drawing on themes of religion, fellowship and storytelling. With a palette of natural hues and pigments, materials such as sheep's wool, twine and hand-dyed fabric, Emily's body of work holds connotations of the primordial. Forming a serene cosmos of flora, fauna, paganism and ethereal figures, Emily depicts nature as a sublime otherworld- something or somewhere to be cherished and worshipped.
---